Are you seeing any of these indicators?
Learning issues challenge children, teens, and adults. Every individual's challenge is unique. Learn some of the indicators to watch. Contact Hunter Learning Solutions by email or phone 518-441-4236 to get more information on how to get an assessment and successful intervention if you or your child are exhibiting any of the following behaviors:
AT HOME:
Trouble paying attention
Reverses letters or words
Taking a long time to complete tasks
Says 'what' frequently
Easily distracted
Over or under sensitive to surroundings
Difficulty organizing and planning
Picky eater
AT SCHOOL:
Low reading comprehension
Reads below grade level
Difficulty copying from chalkboard
Fails to complete homework on time
Appears to be lazy or unmotivated
Daydreaming
Displays any eye issues while reading
Poor handwriting
IN SPORTS:
Inconsistent or poor performance
Avoids sports
Appears awkward or clumsy
Struggles with poor eye-hand coordination
AT MISCELLANEOUS TIMES:
Smart in everything but school
Frequent crying
Irritability
Aggressive
Avoids near work
Low self-esteem
Labeled in any way (LD, Dyslexic, ADD/ADHD, etc.)

"Pen your mystery books to page 32 and do the seven questions."
This is what your child understood the teacher to say.
What did the teacher really say?
There is a big difference between hearing and processing sounds. In this article published in the NY Northeastern PTA News, Hunter Learning Solutions founder Pamela Grandin describes the difference. She also provides an important checklist that can help you determine if your child needs to be assessed for potential future struggles.
Click here to read this enlightening article now!
It is important that athletes have a baseline learning skills assessment prior to the start of a new sport and before the real chance of a concussions occurs. This allows families to follow-up after a concussion to track any changes in the athlete's skills including memory, attention, reasoning and concentration.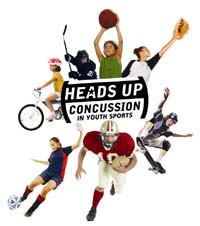 Hunter Learning Solutions can help identify and address cognitive skills deficits that change how the brain functions - whether from an early learning struggle or from a brain injury sustained during sports, a fall, a car accident, a stroke, etc...
Click here to learn more how Hunter Learning Solutions can help make sure sports injuries don't sideline your child's education.