Where do you go when your child struggles?
At Hunter Learning Solutions, we believe in treating the entire child, not just putting bandages on the obvious issues.
That's why we screen for deficiencies at every level of the learning ladder. By starting at the bottom and working up, we are able to identify weaknesses at the lower levels of learning which are affecting the upper levels of learning.

A comprehensive evaluation process is used to determine at what level your child should start re-training their learning skills. Tested and researched programs are then implemented in addition to making referrals to other specialists when needed. We also offer guarantees with each program.
Specializing in evaluations, treatment and referrals in the following skill areas:
Processing Speed
Working Memory
Visual Processing
Vision Therapy
Word Attack
Auditory Analysis
Auditory Processing
Logic & Reasoning
Selective Attention
Sensory Integration
Also working with students in the following academic areas:
Stop managing your child's learning struggles. Start eliminating them!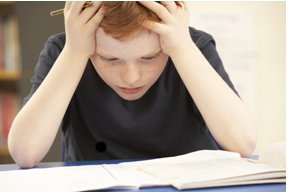 Attend our upcoming information session. It's free. You'll finally understand what it's really like for your child and what you can do about it. Pre-register here >>>
8 Factors That Cause Students to Struggle
Learn the symptoms of symptoms of learning struggles along with explanations of how the underlying causes can be eliminated. Listen to Pamela's interview on blogtalkradio.com.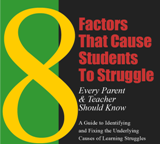 You can also get your free copy of Pamela's book, "8 Factors That Cause Students to Struggle" here>>>.
We provide the verifiable data you require. On time. Every time.